C

G

Y @ A

N

A
Gametime 6:00pm
Two teams going in opposite directions? Anaheim recently won five games in a row over opponents like Nashville, Detroit, and Chicago before losing to the Kings last week, while Calgary hasn't scored two goals in a game since Game Six of the '04 Cup Finals. Remember where you were when Saprykin scored in overtime of Game Five, and that eerie feeling you had, realizing that your team was on the brink of winning a Stanley Cup? Cherish that. Because that is the greatest moment in life. It's not the feeling of winning the cup that you can bottle up and save forever, its the moment of anticipation that makes hockey worth watching.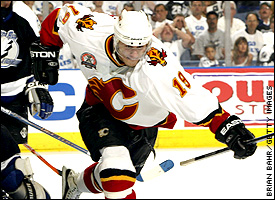 Speaking of nostalgia, there is talk about the Flames possibly acquiring our old friend
Alex Tanguay
from Tampa Bay to boost the offense. How many more players do we need to prove that OJ can't play with anyone? There has also been talk about trading Dion Phaneuf. This might go over well in the locker room as it seems that not only can the league not stand the guy, I'm pretty sure the Flames can't either. Sutter says that this will not happen, but as we have seen time and time again the boss' word isn't exactly gold. Like when he said he wasn't going to do anything big at last year's trade deadline and then got OJ and Leopold, or the time he said that Mike Keenan had a safe job.
GM Darryl Sutter's childhood home movies
Would you even want Tanguay back though? I'd be interested to see how he performs under a coach who does more than have his players scrimmage during practice. Maybe they'll let him wear a real number this time too.
Anaheim is using the old trick of giving away free hats for games. Everybody in the world knows how successful that strategy is.
Gametime is 6:00pm at the Pond. Ducks fly together.