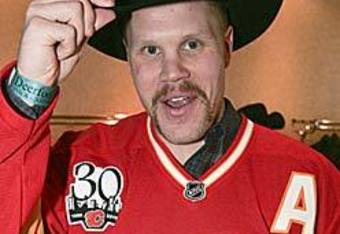 Olli Jokinen went down last night with a lower-back injury, making him the third injured center the Flames will have going into the regular season on October 7th. He now joins Langkow and Stajan, and although they may not be undisputed #1 centers in the league, they are still without a doubt the three best centers Calgary has. This effectively means that Craig Conroy is now the team's #1 center.
Yes, that Craig Conroy. The one making $500k a year on a two-way contract, is now Calgary's #1 center heading into the regular season.
I knew it was gonna be a tough season, but I didn't think it could possibly start out like this. Luckily we have lots of defensive prospects, because defensemen are the only players that matter on a team, right boys?
Right!