Today I would like to bring to your attention my picks for the Eastern Conference first round! Can you believe I picked Philadelphia to win the cup last year? Well this is a shot at redemption.




(1) Washington Capitals

vs

(8) Montreal Canadiens
Washington was far and away the best team in the NHL this year. They had a 120+ point season, unheard of in these days of parity. However there is something to be said about this team: they had the privilege of playing in the Southeastern Division, where there is absolutely dick all for competition. The Atlanta Thrashers finished second in the division, good enough for 10th in the conference. That was their biggest challenge all year. Basically what I'm saying is that although Washington is good, they get to play Florida, Carolina, Atlanta, and Tampa Bay 24 times a year. Even Calgary could manage to make the playoffs if they got to play these bottom-feeders all year. Maybe not, actually..
I still say Capitals take it in 5. I'll give Montreal a game because Washington's goalies do not inspire confidence. My favorite nickname in the league is Jose Threeormore.



(2) New Jersey Devils

vs

(7) Philadelphia Flyers

The New Jersey Devils let their coach quit his job at the end of last year and go to another NHL team. His name was Brent Sutter and he coaches the Flames.
A man named Jacques Lemaire came in to coach the Devils to the #2 seed in the conference. Jacques Lemaire does not believe in fun. He is one of those dads who doesn't take his kids to the zoo, because it might inspire creativity. He thinks that enrolling his kids in a computer class that teaches Microsoft Excel is fun enough for them.
Whatever he does, he has found success. So it will surprise you that I am picking Philadelphia to beat New Jersey in seven games. Why? I actually just have a gut feeling. What, I don't get paid to do this, I don't have to fuckin' justify any of my picks.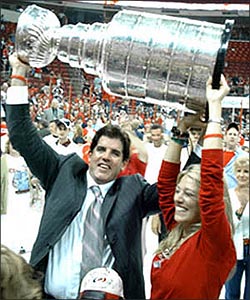 I also am cheering for head coach of the Flyers Peter Laviolette, because he coached Carolina to a cup against Edmonton.

(3) Buffalo Sabres

vs

(6) Boston Bruins

This series is going to blow, but it is probably going to be over quickly. I am picking the Sabres to win in five games. Here is the recipe that makes this playoff match: Take the best goalie in the league (Buffalo's Ryan Miller) and put him up against the worst offense in the league (Boston). It may shock you to learn there was in fact a team that scored less goals than Calgary this year, and yes it was in fact the Boston Bruins.
Tukka Rask is a good goalie for Boston. I also think its awesome that Toronto traded him for Andrew Raycroft. But he can't score goals for the Bruins. Buffalo should realistically not lose a game, but things happen. It's gonna be funny going back to this pick when Boston ends up sweeping the series.

(4) Pittsburgh Penguins

vs

(5) Ottawa Senators
Confession period: I only ever cheered for the Senators in the first place because Dany Heatley was playing on the team. I really don't give two shits about the Sens anymore. I pick Pittsburgh in six games because you don't fuck with the reigning champs, who pretty much didn't lose anyone this summer except for Satan and Sykora who were healthy scratches anyways. Ottawa is so streaky. Bruce Mendrikis put it the best when I asked about their streaks: "Lose seven in a row, then win the next thirteen, then lose five and win six". If Ottawa does manage to beat the Penguins, it will be a sweep. Actually, if Ottawa makes it out of the first round, I could see them going 15-4 in the playoffs. That would mean they sweep their way to the finals, get a 3-0 series lead, and lose four games in a row. Lolerific.
I'd like to take this time to change my Vancouver/LA Kings pick. Vancouver's defence is
fucked
. They are extremely banged up. Flames fans know about the importance of defensive depth in the playoffs. I am picking the Kings in six games, officially changing my bets.
Enjoy playoff hockey!